Many of your Rogers neighbors have experienced full recovery with the help of The Wulf Clinic.
After 2 car wrecks and years of wear and tear from work and having never been to a chiropractor this was a wonderful experience.

It seemed like it was going to take forever, but in just 2 short weeks I was already getting relief. Now I am pain free and I an educated on how to care for my spine and body.

A special thank you to all the staff.

Rhonda L.
I have received excellent and attentive care for injuries I suffered from a car accident.

I have also seen an improvement in chronic back pain issues.

The staff in concerned with long term improvement in the patient's condition and the combination of physical therapy and chiropractic care is great.

I look forward to continued improvement.

Rhonda M.
I have been in treatment for several weeks and have had GREAT results I am considerably less stiff in the morning, and have a lot less lower back pain through the day.

I am able to do some core exercises without pain that I couldn't do before.

I believe that I am on a road to recovery for back pain that I have suffered for 15 years.

Randy R.
Roger's and Fayetteville's AUTO ACCIDENT & WHIPLASH victims: Avoid years of nagging pain or serious problems.
Get help
from a leading accident injury specialist before your case is closed!
Dear Neighbor,

If you've been in an auto accident, have been diagnosed with whiplash, or THINK you may have whiplash or other spinal injuries, you can't afford NOT to see a qualified injury recovery specialist right away
If you've been in an accident-however small-even if you didn't have to go to the hospital (or you went and everything checked out "OK"), you might have undetected structural injuries such as whiplash, spinal subluxations (misalignments), or bone, soft tissue, or nerve damage that could cause you serious problems and expense weeks, months, even years down the road-whether or not you have any symptoms now!

Protect yourself with early detection and correction
Even if the ER physician or your family doctor says you're fine except for whiplash or other mild soft-tissue damage, seek another opinion from an injury specialist immediately.
Why? Because the typical ER doctor or general practitioner (internist) is not specifically trained in structural injury and its potential long term effects.
Even soft tissue injuries, particularly to spinal ligaments, can have serious long-term consequences if not correctly diagnosed and treated right away.
Peace of mind is only a phone call away. We specialize in the treatment of whiplash and other spinal or structural damage that has occurred as a result of an auto accident,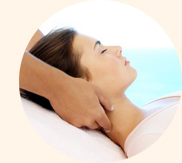 on-the-job, or from a sports related injury.
For more details, take a look at our Treatment and Insurance information. Getting the proper care for your injuries is easier and more affordable than you may realize.
Best of all, MOST of these injuries can be treated naturally without risky surgeries or dangerous drugs by working with your body's innate healing powers.
Please, whether you get help here or from someone else, don't take your good health for granted. Get checked by an injury specialist right away. You'll be glad you did!
To your health,
Integrated Medical